OBAMA PEMBIKIN FILEM ANTI ISLAM
NEW YORK (AP) - Presiden Barack Obama mengatakan lelaki di sebalik filem anti-Islam bahawa keganasan yang dinyalakan di seluruh Timur Tengah adalah "watak bayangan."
Pegawai-pegawai AS menyalahkan filem dalam sebahagian untuk keganasan di Libya, di mana Duta AS Christopher Stevens dan tiga rakyat Amerika lain terbunuh. The White House berkata, perkara itu masih dalam siasatan dan taksiran itu boleh berubah.
Obama berkata Stevens adalah disukai oleh majoriti besar Libya.
Walaupun keganasan, beliau berkata, keadaan di Libya tidak sia-sia. Tetapi beliau berkata ia akan beralun dan pada masa yang berbahaya.
Obama membuat komen dalam satu temubual dirakam dengan David Letterman yang disiarkan malam Selasa.
Seperti semua tahu Obama presiden Amerika dan penganut agama kristian mestilah dia menyokong agama dia kenapa nak sokong agama islam. Tapi aku tertarik sebab Pas dan Umno bersatu mengecam "innocence of muslim" tetapi kenapa tak buat perhimpunan aman bakar bendera Amerika seperti perhimpunan di kebanyakkan negara islam Malaysia takut ke.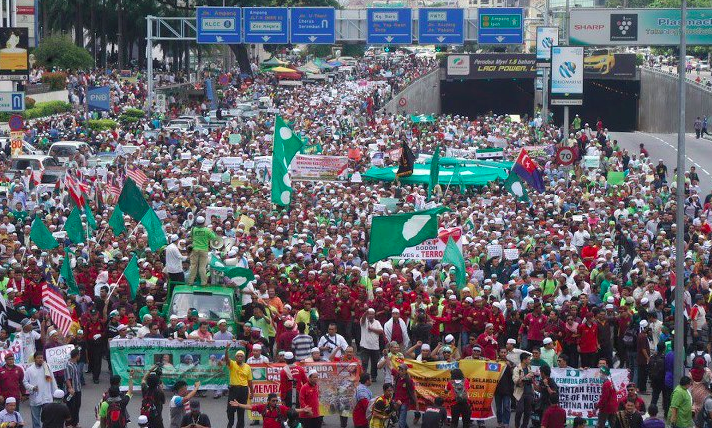 Dari sumber berita Denaihati mungkin fahaman politik menyebabkan kekangan arus perdana Malaysia. Tetapi dengan kekejaman ini kita sepatutnya bersatu atas nama islam. Jangan kerana politik kita takut menegakkan agama kita. Sayang hanya orang Pas sahaja yang berusaha menentang "Innocence of Muslims"???